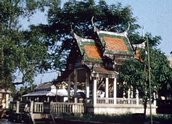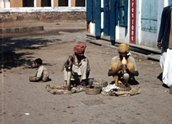 Minter, R: South-East Asia, India and Rome (1958)
Synopsis
This silent colour 16mm home movie, filmed by Robert Minter, is of a world trip in 1958. It includes his travels to Hong Kong, Thailand, Burma, India, Turkey, Greece and Italy.
Curator's notes
This home movie opens with a map of the world that introduces Robert Minter's subsequent journey. The footage follows the route of his tour, beginning in South-East Asia and moving west through India, Turkey and on to Europe, presenting the experience as it unfolded. While Minter does not use intertitles to demarcate every segment of his trip, street signs or buildings in each country effectively identify the location.
Home movies of personal travel allow the experience to be relived and offer a snapshot of places, events, customs and cultures witnessed. Like still photography, moving image technology has become an indispensable part of tourism over the course of the 20th and 21st centuries. Up until the 1950s and 1960s, when world tours became more frequent with the expansion of air travel, home movie and amateur film recordings of overseas trips were relatively uncommon.
Robert Minter was from a well-known family of lawyers and barristers, and had been travelling to South-East Asia since the 1930s. His 1932 film of Hong Kong and China vividly captures the art deco foreshores of Shanghai, Canton and Hong Kong city (see Holidays in Shanghai, Hong Kong, Canton, Java). As with his 1958 footage, Minter's camera observes street scenes, architecture and the social customs of different cultures.