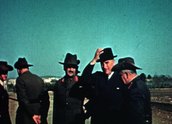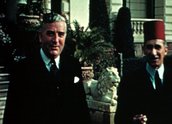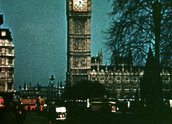 Australia to England via Tobruk and Benghazi: Menzies Wartime Tour (1941)
Synopsis
This home movie, filmed by Australian Prime Minister the Right Honourable, Sir Robert Menzies, was taken during his 1941 wartime tour of Tobruk, Benghazi, Cairo, Khartoum, Libya and Palestine, en route to England. The film includes footage of official visits to a war hospital, military bases and travelogue footage of the cities he visited.
Curator's notes
This home movie filmed by Australia's longest serving prime minister, Sir Robert Menzies, illustrates and records Australia's contribution to the war in 1941 and the events which unfolded in London during the Blitz.
Most of the footage of the Second World War is in black-and-white, making this 16mm colour home movie even more extraordinary.
As this is essentially a home movie, we also catch a glimpse of Sir Robert as a man, documenting his travels much like a holiday maker. Shots of camels, towns, landscapes and people are recorded much like a travelogue and one can imagine Sir Robert returning home to screen them at his home at The Lodge.