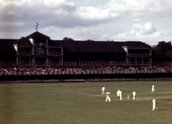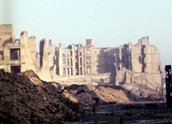 Menzies 1948 Journey, Reel 2 (1948)
Synopsis
This home movie filmed by Australian Prime Minister, Sir Robert Menzies, during a family journey through Europe in 1948, begins with a title card that says 'I didn't see enough of it' and cuts to footage of the cricket at Lords. It then shows landmarks in London, Paris, Rotterdam, The Hague, Holland and Berlin.
Curator's notes
This home movie is part travelogue part historical record. The various scenes of Paris and The Hague and Holland are shot like any other holiday-maker's home movie capturing various street scenes and a fun atmosphere. However, the footage of postwar Berlin, shows piles of rubble and the destruction left from the war. A truly mesmerising piece of footage taken through the eyes of an Australian prime minister.
Shot on 16mm colour film, Sir Robert edited the footage on his return to Australia, even adding his own intertitles.