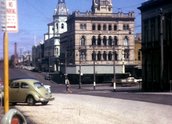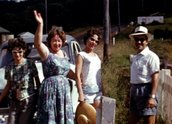 McKenzie, Roger and Kent, Bernie: Silent Car Trip Australia (c.1960)
Synopsis
This travelogue is edited into segments based around the places and sites of interest that they visited on a trip through South Australia, Victoria, New South Wales and Queensland. Each segment contains distinctive title cards with words appearing against various picturesque still backgrounds.
This trip began in South Australia, and covered the Grampians, Snowy Mountains, Brisbane, the Gold Coast, Mildura and the Murray River, Adelaide, the Barossa Valley, and many small towns in between.
Curator's notes
Bernard Walter Kent and Roger McKenzie were both enthusiastic film collectors and technicians in the industry. Kent was a projectionist at the Globe newsreel theatre in George Street and McKenzie worked at ATN7 from 1962 to 1988 as a film editor and then as chief news editor. They met in 1947 and together, aside from building a collection of films, also made their own travelogues and amateur films. As well as their travelogues such as this one, their other films include footage of Sydney's tram system and last tram, and scenes of various cinema buildings around Australia. From these range of subjects, it is clear that Kent and McKenzie had a strong interest in transport history, travel and public buildings.
Their extensive collection of films was deposited with the National Film and Sound Archive in 1992 and includes newsreels; sporting events; transport footage of planes, ships and trains; short pieces of early tinted film; cinema advertisements and documentaries.
See also McKenzie, Roger and Kent, Bernie: Around Sydney with a Camera.