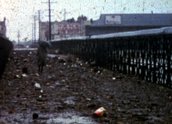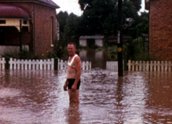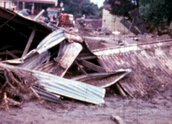 Maitland Floods (1955)
Synopsis
The devastation of the 1955 Maitland floods is captured here in this silent colour home movie footage, taken by Colin Johnston. It shows the fast-rising waters, flooding bridges, and submerged streets of the Hunter Valley town as well as the muddy aftermath once the floods have receded.
Curator's notes
Nestled around the Hunter River in NSW, Maitland is a town with a history of flooding. This home movie adds colour to the 1955 natural disaster, and dramatically illustrates the ferocity of rapidly rising water levels in the town.
Colin Johnston, who shot this footage, was a resident of Maitland at the time and his family still live in the area. Although the print from which this footage came is quite scratched, the material itself provides an important personal record of a public event. Some may say it lacks the drama and spectacle of the official newsreel footage of the floods, but the reaction of residents and the 'everydayness' observed here make this home movie surprisingly affecting.
Images of the 1955 Maitland floods have also been immortalised through Phillip Noyce's 1978 feature film, Newsfront, which integrates black-and-white actuality footage of the floods with dramatic re-enactments.