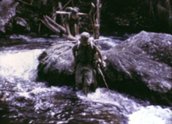 Kokoda Trail, Cadets from Scots College (1972)
Synopsis
This silent colour home movie documents a trip by a group of Scots College students to Papua New Guinea. It includes their departure from Sydney and their seven day trek across the Owen Stanley Ranges and the Kokoda Trail between 2 and 9 May 1972.
As well as documenting the journey along the Kokoda Trail, this home movie also films the villages along the track, the Port Moresby and Sydney airports (including an old Ansett plane) and the war cemetery.
Curator's notes
This home movie was filmed with a domestic super 8mm camera, probably by one of the Scots College staff or a parent of one of the boys. The camera is compact and lightweight, which would have made filming this trip relatively easy, allowing the camera operator a degree of agility and flexibility when filming. The challenging terrain of Papua New Guinea and the Kokoda Trail is constantly evident as the boys climb over rocks, through jungle, across rivers and up mountains. Just think how demanding it would have been for war correspondents like Damien Parer, who covered the war effort with a bulky 35mm camera in jungle locations such as Kokoda. Parer's 1942 documentary Kokoda Front Line! won an Academy Award.