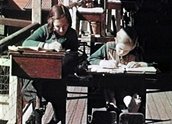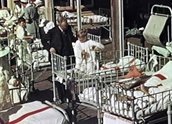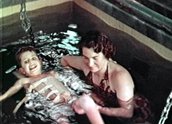 Homes for Crippled Children (c.1940)
Synopsis
Produced by Reverend RW Dobbinson, this silent film surveys convalescent homes and caring facilities for children with polio and other crippling diseases. It shows a number of homes and facilities across the country including the children's ward of the Brisbane Hospital, 'Montrose' on the Brisbane River, Collaroy Home in New South Wales, Franston Home in Victoria and St Giles in Tasmania. It also shows rehabilitation methods including physiotherapy and hydrotherapy (see clip three).
Curator's notes
In 1937 a severe outbreak of polio occurred in Launceston, Tasmania. Within a year, Tasmania had the second highest number of polio cases per capita in the world. Polio carried a great social stigma and children were especially vulnerable to the virus. The same year, Baptist minister the Reverend RW Dobbinson established the St Giles home in Launceston – an institution to provide support for children affected by polio – named after the patron saint of children with disabilities.
The film surveys the facilities available around 1940 that specifically cater for children with disabilities. Not a lot is known about Dobbinson aside from his involvement with St Giles (which continued until 1944), but he was known to have given a series of lectures in 1939 in Tasmania to raise money for St Giles, so it is quite possible this film was produced to assist in that effort. By showing already established homes in Victoria and New South Wales, Dobbinson may have hoped to raise funds for the purchase of additional equipment and facilities for the newly established St Giles.
The scenes of children in the forty minutes of colour footage are incredibly vivid. The treatment methods, rehabilitation facilities and arcane harnesses the children are made to wear are those of a bygone era. For this reason the film is an important document of how children affected by polio and other crippling diseases were treated in the 1940s. Another example of a film that shows how far medical treatment facilities have come since the 1920s and 1930s is Austin Hospital at Heidelberg, Vic: The Only Hospital for Chronic Diseases in Australia (1928).