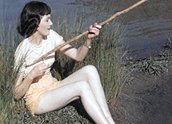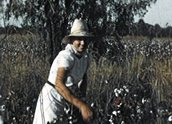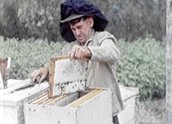 Holmes, Mr WGA: Locals Cool Off at the Weir, Theodore (c.1940)
Synopsis
This home movie filmed by WGA Holmes contains 17 segments filmed between 1940 and 1953 mostly in and around Theodore, Queensland. It includes footage of people bathing at the Theodore weir; mechanical and manual cotton harvesting; and beekeeping and honey extraction.
Holmes produced his own intertitles and inserted them at various points throughout this footage.
Curator's notes
Of the 17 segments in this home movie compilation, many of them are concerned with various farming or agricultural activities including dairy faming, cotton harvesting, beekeeping, barbed fence construction, and timber getting. Sprinkled throughout are the leisure activities of people bathing or swimming in the Dawson River near the Theodore weir.
Holmes also recorded family birthday parties and weddings – a common feature of private home movie footage.