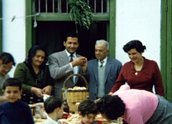 Gerakiteys: Greek Scenes (c.1955)
Synopsis
This home movie footage is from a four-part compilation of 16mm silent colour home movie footage of the Greek community, filmed by Emmanuel Gerakiteys and his family between 1949 and 1955.
Scenes in this 1955 compilation include the family on a trip home to Greece and shots of the pyramids in Egypt. There is also footage of the Greek village where the Gerakiteys family is from.
Curator's notes
The Gerakiteys home movies represent a detailed example of multicultural life in Australia during the 1950s, especially of the Greek community in Canberra and its surrounding districts. Important family and community events have been recorded, and copies of these home movies are preserved at the National Film and Sound Archive. This footage is of an overseas holiday and is of interest because it shows the family's country from which they came. By the 1950s, the Gerakiteys family had been living in Australia for at least twenty years.
For representations of German migrant life in Canberra during the 1950s and 1960s, see the Konrad Dimpel home movie collection on this site.