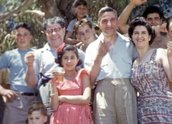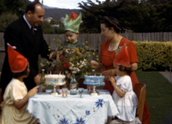 Gerakiteys: Greek Community Picnics (1950)
Synopsis
Home movie footage of members of the Canberra Greek community filmed between 1949 and 1950. Footage includes two annual picnics, family scenes at home, a birthday party, and a family outing around Canberra.
It is from a four-part compilation of 16mm silent colour home movie footage of the Greek community between 1949 and 1955, filmed by Emmanuel Gerakiteys and his family.
Curator's notes
This beautiful colour footage vividly captures the Greek community in Canberra and some family moments amongst the Gerakiteys family. The home movie captures a lot of the scenes, events and celebrations common in this sort of private footage, but it is also an insight into how the Greek community in Canberra lived at the time, and the ways they contributed to community life. The large communal gatherings seen in their annual picnics are evidence of just how close-knit the community was.
Emmanuel Gerakiteys (who filmed most of the footage) owned and ran the Canberra Café in Queanbeyan and then the Blue Moon Café in the Sydney Building, in Canberra's city centre. Like many Greeks who migrated from the 1930s onwards, Gerakiteys was from the island of Kythera. His experience in small business was common amongst many of the Greeks, with others working in grocery stores, fruit shops, cafes, and wholesalers.