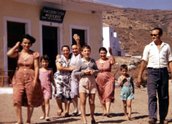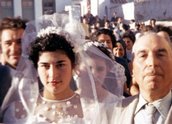 Gerakiteys: Scenes of Greece and Canberra (c.1954)
Synopsis
In this 16mm silent colour home movie, members of the Gerakiteys family, residents of Canberra, arrive in their town of origin in Greece where they meet relatives, visit local villagers and attend a wedding.
Curator's notes
This beautiful home movie footage is from a four-part compilation of 16mm silent colour home movie footage of the Greek community between 1949 and 1955, filmed by Emmanuel Gerakiteys and his family.
The selected segment shows part of a family trip back to the rocky seaside village on the island of Kythera, where the Gerakiteys family originated. Aspects of domestic and social life including family holidays are common in home movies, but this is of particular interest because it shows a migrant Australian family visiting their homeland of Greece.
Additional footage on this compilation includes scenes at Canberra airport for the arrival of a Yugoslav dignitary, and another Greek wedding – this time in Australia.
The Gerakiteys home movies represent a detailed example of multicultural life in Australia during the 1950s, especially of the Greek community in Canberra and its surrounding districts. Important family and community events have been recorded and copies of these home movies are preserved at the National Film and Sound Archive.
For representations of German migrant life in Canberra during the 1950s and 1960s, see the Konrad Dimpel home movie collection on this site.