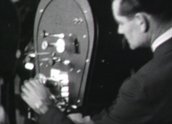 Dyer, Frederick Simpson: Cinema and its Workings (1941)
Synopsis
An outing to the Saturday matinee screening of Pack Up Your Troubles (1940) at a local cinema is captured in black-and-white and colour by amateur movie maker Frederick Simpson Dyer.
Curator's notes
Amateur movie maker Frederick Simpson Dyer made a number of 16 mm film home movies covering the years 1936-1943 and recorded family events such as holidays, birthdays, and family outings. This self-contained sequence is one of the highlights of his footage. Edited together chronologically, and at times incredibly comic, it reveals the excitement of going to the cinema at a time when the moving image was not all pervasive, as it is today.
For other sequences that reveal slices of suburban family life in the 1940s, see Dyer's home movie Milkshakes and Bomb Shelter also on this site.