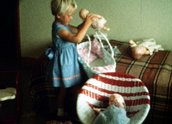 Dimpel, Konrad: Red Hill (1964)
Synopsis
This silent colour home movie, captured by Konrad Dimpel, shows his children quietly entertaining themselves over Christmas in 1964. The Dimpel children – Annemaria, Andrew and Harold – play with the gifts they have received for Christmas. While Annemaria plays in the house with her dolls, the boys prefer their model boats and a game of Monopoly.
Curator's notes
This footage, shot on 8mm colour film by Canberra resident Konrad Dimpel, was deposited with the National Film and Sound Archive along with around 40 other home movies that Dimpel has filmed over the years.
The Dimpels lived in this house in the inner southern suburb Red Hill from the mid 1950s until the 1970s. In the mid 1970s they built a home in nearby Farrer where they continue to live. Of the family's time in Red Hill, Dimpel recorded around a dozen or so home movies during which time his three small children grew into young adults.