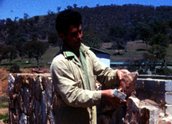 Dimpel, Konrad: Jennings Germans (c.1960)
Synopsis
This silent, colour home movie footage from 1960 shows bricklayers lay the foundations of a house while others carry out masonry work on a rough stone wall. Alongside them, a toddler in a pink dress explores part of a work site while her mother rakes in the garden.
Curator's notes
The record captured in this home movie footage, taken by Canberra resident Konrad Dimpel, is an important part of Canberra public history. In the 1950s, the building company AV Jennings brought out German migrants to conduct building work in and around Canberra. This was done to alleviate the shortage of skilled workers at the time. Those migrants – carpenters, bricklayers, joiners, and masonry workers – became known as the 'Jennings Germans'. Dimpel and his family came out in 1954. Some of the first houses built by the 'Jennings Germans' are still standing in O'Connor, Ainslie and Yarralumla.
Migrants have played an important role in Australia's cultural and work history – working on important projects like the Snowy Mountains Hydro-Electric Scheme and the building of the National War Memorial.