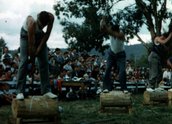 Dimpel, Konrad: Canberra and Snowy Mountains (c.1954)
Synopsis
This mute, colour home movie made by Canberra resident Konrad Dimpel shows various scenes in and around Canberra and includes a woodchopping competition at a local country show.
Curator's notes
Konrad Dimpel emigrated from Germany to Australia in 1954. He has recorded his family's history since his arrival in Australia through home movies and continues to do so. This home movie was one of the first that Dimpel shot after his arrival in Australia. Most of the footage captures scenes of sporting and leisure activities on what was probably a family outing.
Konrad Dimpel has deposited over 40 home movies with the National Film and Sound Archive in Canberra and continues to make home movies which document the experiences of his family's life.