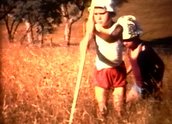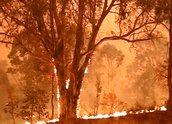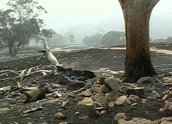 Dimpel, Konrad: Burned Out Fields Around My Walking Ways (2003)
Synopsis
This home movie – filmed, edited and narrated by Canberra resident Konrad Dimpel – documents the bushfires that swept through the ACT in January 2003 and their destructive aftermath. It contains footage of the family's 30-year relationship with the area, the fires creeping across Farrer Ridge close to Dimpel's home, and the damage to the houses and forests that the fire has left behind.
It mixes contemporary digital footage of the Dimpel family with silent colour film footage from the 1970s. It also uses instrumental music to complement Dimpel's personal narration.
Curator's notes
This extraordinary home movie was shot on the professional video format DVC Pro and compiled by Konrad Dimpel between January and April 2003. It was originally made for Dimpel's family back in Germany, to explain the personal impact of the fires on his home. Voice-over narration was recorded in both German and English. The use of a tripod, steady pans and slow zooms gives this home movie a polished feel.
Home movies often capture personal perspectives of historic and public events. They are therefore a valuable witness to living history as well as a contribution to public memory. Here, a devastating natural disaster is given a human face and voice through Dimpel's reflective narration and presence. His family's attachment to the landscape and the memories it contains are illustrated through their family footage from the 1970s. The happiness of these vignettes is contrasted with the 2003 bushfires as they creep down the Farrer Ridge towards the Dimpel family home. Taken as a whole, this home movie is a powerful testament to the importance of place, memory and personal history as seen through the prism of disaster.
Konrad Dimpel immigrated to Australia from Germany in the 1950s as one of a group of German migrants brought to Australia by AV Jennings to work on building projects in Canberra. Dimpel managed to save his house from the bushfires, and continues to live there.