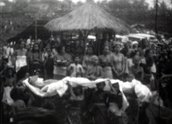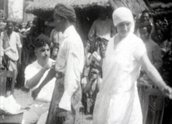 The Cremation of a Balinese Chief at the Hotel Bali (c.1930)
Synopsis
This silent actuality footage, filmed by Bastian Clasie, includes part of a Hindu cremation ceremony as well as scenes of Balinese villagers receiving vaccinations from a small medical team.
Curator's notes
This home movie was filmed by an expatriate living overseas. As such, it records a slightly different experience of the Asia-Pacific region to that of travellers simply passing through. Sebastian Clasie lived in Denpasar, Bali, from 1931 to 1934 where he managed the Hotel Bali (where Charlie Chaplin was once a guest). The Balinese cremation took place by the ocean close to the hotel and, according to Clasie's son, was the first such ceremony to be witnessed and filmed by a white man. Clasie recorded the ritual as it happened and had a level of familiarity with the locals. The final minute of the footage may have been filmed in Denpasar, or in a village close by.
This film was deposited with the National Film and Sound Archive as a result of its Last Film Search in the early 1980s. This initiative unearthed many valuable nitrate films along with diacetate 16mm films like this.