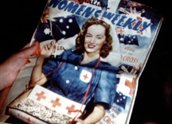 Couch: Our Women of the VAD (1943)
Synopsis
This silent amateur documentary with intertitles was made by members of the Couch family. The film begins with three young women knitting, and then reading an issue of Woman's Weekly. The issue features an illustration of a Voluntary Aid Detachment (VAD) member on the front cover which inspires the girls to join the VAD themselves. The rest of the film shows women practicing first aid and care on an oval in Drummoyne and a meeting and parade of VAD members.
Curator's notes
Our Women of the VAD is a well-made amateur production that was possibly made as part of an amateur cine society. The intertitles and vivid colour make the material a pleasure to watch. It covers the women's domain of the VAD – Voluntary Aid Detachments – established during the First World War to provide assistance and support. Newsreels such as Cinesound and Movietone recorded parades and appeals for the VAD, but this home movie provides an almost behind-the-scenes view of the women as they went through their training.
Family home movies are often deposited with the National Film and Sound Archive by relatives. This home movie was deposited by the filmmaker's son. In this way, the public is given access to material that would otherwise only be seen by close family and friends or within the context of a film society.