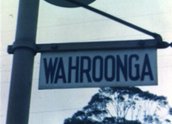 Clarke, Robin JH: Sydney Diary (1950)
Synopsis
In this 1950s silent home movie footage, we spend a typical evening with the Clarke family at their Wahroonga home in North Sydney.
Curator's notes
This home movie footage was taken by professional cameraman Robin Clarke, one of Australia's first television cameramen. He worked for HSV7 and ABC in Melbourne for over 20 years and was one of the first people to be accredited with membership of the Australian Cinematographers Society (ACS).
This home movie is a strong example of the places and events that Clarke often captured, such as identifiable urban buildings and street scenes, public events and coastal locations. The sequence seen in clip one is a good example of the daily life, which Clarke was also interested in capturing.
The National Film and Sound Archive holds a number of home movies that Clarke filmed during the 1950s and 1960s including the 1954 Royal Tour of Australia and the 1956 Olympic Games in Melbourne, along with a manuscript collection of clippings and papers on his life and career.