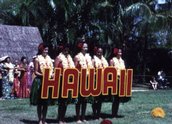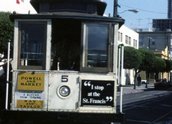 Cine Safari (c.1977)
Synopsis
This silent home movie footage was filmed by amateur filmmaker Alan Bresnahan during a tour of the United States of America and Canada in 1977.
It includes eight short travelogues: Hello Hawaii, Looking at Los Angeles, Canyon Capers, Seeing San Francisco, Vancouver Visit, Springtime in the Rockies, Niagara Calls and Washington Walkabout.
Curator's notes
Alan Bresnahan made his first travelogue in 1936 using 16mm film. Over the next six decades, Bresnahan continued to make amateur films and became an active member of the Victorian Amateur Cine Society. He documented his journeys both within Australia and overseas including the Asia-Pacific and the United States. The films are a record of his travel experiences, but also a creative work to present to other members of the cinema society. Cine Safari was made during a month-long trip by approximately 30 members of the Cine Society in the spring of 1977.
Bresnahan's long involvement with amateur filmmaking developed and refined his skills as a competent maker of travelogues. He employs the basic elements of filmmaking – narrative structure, camerawork, editing, music and voice-over – to good effect. The silent travelogues of Cine Safari contain well-framed images where his camera remains fixed on an object or event. He uses pans only when they have a purpose and they always appear deliberate. He focuses his camera on the buildings, monuments, street signs and tourist sites of the cities he visits in a way that highlights the differences between locations. The act of photographing and filming is also captured by Bresnahan in the Cine Safari films when he turns his camera onto his companions who are also recording their experience with a camera.
Alan Bresnahan called his production company Cinepix Productions. Many of his travelogues are preserved at the National Film and Sound Archive along with documentation relating to the Victorian Amateur Cine Society.