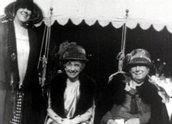 Children's Party, Boys Wrestling and Outdoor Performances (c.1925)
Synopsis
A home movie recording of a children's party and an outdoor celebration in a garden.
It begins with some of the children arriving and being greeted by two adults. Subsequent scenes show two young boys wrestling as their dog joins in; guests attending the garden party gathered around a marquee; and children dancing and performing for the guests and family members. At the end of the footage, there is a brief scene of people gathered around two sick women who are lying in bed.
Curator's notes
Home movie and amateur production at this time was mostly confined to families who could afford the new technology. Cameras were relatively expensive in the 1920s and 1930s and this home movie footage therefore presents a limited spectrum of Australian society.
The filmmaker is unknown, as are the identities of the guests and their location. The filmmaker was likely to be related to people who appear in this film and the gathering could have been for a birthday or a family picnic. It was filmed on 16 mm with a hand-held camera at 16 frames per second. The reliance on natural light results in some of the scenes being under-exposed and people appearing as silhouettes. The camera operator uses quick pans to survey the people gathered in the gardens.