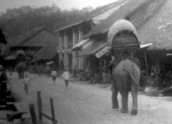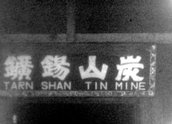 Buckley, Anthony: Buckley Family Collection: Tarn Shan Tin Mine, Thailand (c.1928)
Synopsis
This silent 16mm home movie footage was shot by Horace Patrick Buckley in the late 1920s, while working in Thailand at the Tarn Shan Tin Mine. It includes footage taken at the mine, various street and village scenes in South-East Asia, shots of the Buckley family on board a boat and holiday scenes in Australia.
Curator's notes
This home movie is an example of actuality footage that presents personal experiences of the Asia-Pacific region in the 1920s. This footage is rare because Australians travelled infrequently to South-East Asia at the time. Horace Patrick (HP) Buckley was living in Kuala Lumpur, Malaysia, and working in Thailand (then called Siam) when he filmed this home movie. As well as capturing aspects of his working life, Buckley also filmed the landscape and streets of Thailand and Malaysia (clip one). As a university student, HP Buckley was part of the Locke Oil Expedition in Western Australia in 1922. By the late 1920s, he was working for BHP, and was asked to set up the Tarn Shan Tin Mine for the Siamese government (clip two). Buckley and his wife Nell moved to Kuala Lumpur and lived in the region until the late 1930s.
This home movie is part of the Buckley Family Collection, preserved at the National Film and Sound Archive. The collection comprises home movies made by brothers HP, Kethel Timothy (Keith) and Brian Buckley between 1929 and 1963. Although all three brothers loved making home movies, none of them took up cinematography as a profession. Anthony Buckley, Keith's son and HP's nephew, is the only member of the Buckley family to enter the professional film industry. Since picking up a 9.5mm camera in the early 1950s, Anthony Buckley has gone on to become one of Australia's foremost film producers. His credits include Caddie (1976), Bliss (1985), BeDevil (1993) and Oyster Farmer (2004).