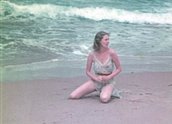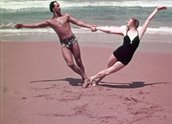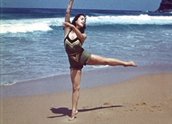 Murray-Will, Ewan: Ballet Russes in Australia (c.1939)
Synopsis
On the sand and rocks of Bungan Beach, dancers from the Ballets Russes enact a drama for the camera and perform excerpts from their repertoire. Friend and balletomane Ewan Murray-Will films the action in a number of scenes. Some of the action is filmed in slow motion.
Curator's notes
This footage forms part of the Chesterman Collection held at the National Film and Sound Archive which consists of 25 reels of colour and black-and-white 16mm film taken by Ewan Murray-Wills between 1935 and approximately 1940. Former ballerina and curator of dance at the National Library of Australia until 2006, Michelle Potter, has written that Murray-Will – a Sydney dermatologist and amateur filmmaker – was 'reputedly a shy man and did not produce a family of his own, but a select group of Ballets Russes dancers became a little like a family to him'.
The footage seen here is some of the most unique and candid footage of Ballets Russes members recorded by Murray-Will. Murray-Will had a beach house at Sydney's Bungan Beach and this became the setting for some of the slow motion experiments with his hand-held camera. Dancers, often dressed in swimming costumes, would perform excerpts from their repertoire, improvised and performed for the camera. Bungan Beach became a 'weekend retreat' for many of the dancers who would gather there on Sundays during their Sydney seasons.