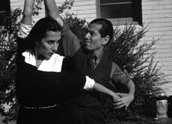 Murray-Will, Ewan: Ballets Russes (c.1939)
Synopsis
Members from the Ballets Russes relax at the beach house of Ewan Murary-Will. Murray-Will films them dancing, picnicking on the grass, swimming and sunbathing at the beach.
Curator's notes
This film forms part of the Chesterman Collection, a series of 25 cans of 16 mm film taken by dermatologist and amateur filmmaker Ewan Murray-Will. The Collection is held at the National Film and Sound Archive.
Murray-Will was reputedly a shy man and did not have a family of his own, but a select group of Ballets Russes dancers became a like a family to him. His acquaintance with Ballets Russes members allowed him to capture unique images of one of the world's greatest dance companies including candid and impromptu scenes of dancers relaxing, dancing and laughing.