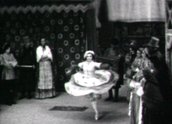 Murray-Will, Ewan: Ballets Russes: Petrouchka: Carnaval: Aurora's Wedding (c.1936)
Synopsis
This silent footage, filmed by Ewan Murray-Will, shows the Ballets Russes de Monte Carlo performing scenes from Petrouchka, Carnaval, and Aurora's Wedding during their 1936–37 tour of Australia.
Curator's notes
This footage forms part of the Chesterman Collection, which consists of 25 reels of colour and black-and-white 16 mm film taken by Ewan Murray-Will between 1935 and 1940. Dr Ewan Murray-Will was a Sydney dermatologist and amateur filmmaker who became friends with a number of dancers from the Ballets Russes. This allowed him to film excerpts from their repertoire, as well as members of the ballet relaxing at his beach house on Sydney's Bungan Beach.
Excerpts from Murray-Will's footage, including the clip from Petrouchka selected here, were used in the 1999 documentary The Ballets Russes in Australia, 1936–1940: An Avalanche of Dancing, a joint project by the National Film and Sound Archive and the National Library of Australia.