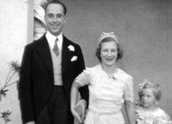 Murray-Will, Ewan: Ballets Russes, Hélène Kirsova's Wedding (1938)
Synopsis
This amateur footage of Danish ballerina Hélène Kirsova's wedding reception was filmed in 1938 by her friend and ballet-lover, Dr Ewan Murray-Will. Kirsova was part of the famous Ballets Russes ballet company which toured to Australia in the 1930s.
Curator's notes
Dr Ewan Murray-Will was a Sydney dermatologist and amateur filmmaker who became friends with a number of dancers from the touring Ballets Russes companies in the 1930s. In particular he became close friends with Hélène Kirsova, which allowed him to film part of her wedding and reception when she married Danish Vice-Consul Erik Fischer.
Kirsova was one of a few Ballets Russes dancers who stayed in Australia after the tours, and she formed a ballet school in Sydney and founded the Kirsova Ballet. Murray-Will's acquaintance with Ballets Russes members allowed him to capture unique images of one of the world's greatest dance companies. Here we see a personal side to Kirsova on her wedding day and her buoyant mood is strongly conveyed through these images.
This film forms part of the Chesterman Collection, 25 reels of colour and black-and-white 16 mm film taken by Ewan Murray-Wills between 1935 and approximately 1940. It was donated to the National Film and Sound Archive in the mid-1990s.