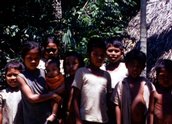 Bali Hi (c.1971)
Synopsis
This is an amateur travelogue made by Alan Bresnahan and his wife during a trip to Bali in 1971.
Curator's notes
Bali Hi is one of a few amateur films that Alan Bresnahan made during his tour of South-East Asia in 1971. As an active member of the Victorian Amateur Cine Society for over 60 years, Bresnahan's productions are well-made and often incorporate voice-over and music into a narrative structure built around the travelling experience. Taking its name from the song 'Bali Hai', written for the Rodgers and Hammerstein musical South Pacific (1949), the film is narrated by Bresnahan's wife and uses a diary-style voice-over where she relays their personal experience and observations of Balinese culture.
These observations are influenced by the beginnings of packaged tourism, where the tour group is exposed to pre-arranged glimpses of Balinese village life and social customs. The romance and exoticism of Bali is highlighted by the voice-over with the use of phrases such as 'gently swaying palms', 'tropical flowers' and reference to a 'permanent holiday atmosphere'. This image of Bali as an island paradise is further strengthened by the instrumental soundtrack which draws on both Hawaiian-style and traditional Indonesian gamelan music.
During his years as a member of the Victorian Amateur Cine Society, Alan Bresnahan made dozens of travelogues of his journeys both within Australia and overseas. Singapore Synopsis (1971) was made on the same trip as Bali Hi and uses a similar format, although it focuses more on the history of the city. Bresnahan also toured across the United States and Canada with other members of the society as part of a Cine Safari trip in 1977.
The Victorian Amateur Cine Society was founded in the mid 1930s and flourished in Victoria during the 40s, 50s and 60s especially. In the 1980s, the Victorian Amateur Cine Society changed its name to Victorian Movie Makers Inc. Film clubs and cinema societies such as this played a significant role in the development of both amateur filmmaking and the establishment of film festivals in Australia.