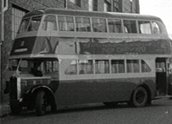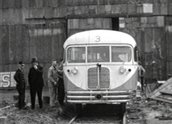 Double-decker Bus and Rail Motor (c.1936)
Synopsis
This footage, shot by Mr Waddington of Smith and Waddington Ltd, displays a range of newly constructed buses including a double-decker bus.
Curator's notes
The Waddington family was involved in the early days of the motor vehicle industry in Australia. In 1921, Smith and Waddington Ltd began as a 'small firm building custom bodies for motor cars and small buses' (Dunn, 2006). During the Depression the company restarted as Waddington Body Works, but with the start of the Second World War, the Commonwealth Government took control of the company and changed its name to Commonwealth Engineering (or COMENG). Waddington remained managing director for some of this time.
This private footage, filmed by Waddington himself, came to the attention of the National Film and Sound Archive in the 1980s as part of the Last Film Search initiative. The cans of film donated include footage of cars Waddington built in the 1920s and 1930s, rolling stock, buses and diesel locomotives which his company built for the war effort and later.