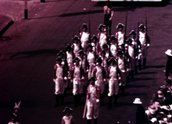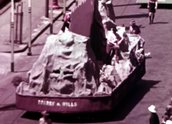 Australia's 150th Anniversary Celebrations, Sydney (1938)
Synopsis
This home movie captures the parade on 26 January 1938 celebrating the 150th anniversary of Captain Arthur Phillip's arrival on Australian shores. Parading down a city street are an Aboriginal float, a First Fleet float, a Governor Philip float and a Burke and Wills float. A boy scout in uniform marches in front of each float and marching bands are scattered throughout the parade.
It also includes footage taken at night of Town Hall, the Queen Victoria Building and a tall ship decorated with fairy lights. The film ends with a fireworks display – somewhat subdued by the washed out colour of the film.
Curator's notes
This home movie was filmed by Sydney dermatologist and amateur filmmaker Dr Ewan Murray-Will. Home movie making became possible with the invention of 16mm film in 1923. Being expensive to buy, it meant that initially home movies were made by those who could afford to buy a camera. Although this did not tend to give a wide cross-section of society, it did allow people to record significant national events, as seen here. Dr Murray-Will's films were donated to the National Film and Sound Archive by the Chesterman family in the 1990s.
The day of 26 January 1938 also marked the first Day of Mourning held by Aboriginal Australians. It was designed to contrast with the Australia Day celebrations captured in this film.
It is interesting to note that the celebrations do not reflect Australia's convict history.
This footage is very similar to the parade in Farey, Opening of the Sydney Harbour Bridge, 1932.