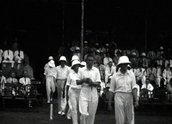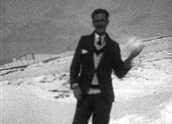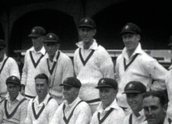 Henshall, Mr: Australian Cricketers Visit Ceylon, Naples, Switzerland and Practise at Lords (1930)
Synopsis
This silent home movie, capturing informal scenes of the 1930 touring Australian cricket team, was filmed by the team's manager WL Kelly. It shows the players visiting Ceylon (Sri Lanka), Naples (Italy), Switzerland and England.
Curator's notes
Being the team manager, Kelly was able to beautifully capture candid behind-the-scenes footage of the players at leisure and play. Initial correspondence between the National Film and Sound Archive and the depositor Mr Henshall indicates that very little footage of these early cricketers exists (of Don Bradman especially) apart from newsreels, making the images seen here extremely rare. Kelly's familiarity with the players allows him to capture a largely unseen side of these public figures.
The scenes captured in this home movie are likely to have been filmed between April and August 1930. The Australian cricket team toured to England by boat for the Ashes series which took place from June to August, stopping off along the way to play a one day match in Colombo on 3 April of that year. The 1930 cricket team included some of Australia's greatest players, including Don Bradman, Bill Woodfull, Bill Ponsford, and Clarrie Grimmett. Other members of the touring side were Stan McCabe, Ted A'Beckett, Percy Hornibrook, Tim Wall, Alec Hurwood, Alan Kippax, Alan Fairfax, Victor Richardson (grandfather of Greg and Ian Chappell), Archie Jackson, Charlie Walker, T Havard (official) and WL Kelly (manager). Some of the players are identified in clips one and three.
In the early 1980s, the National Film and Sound Archive ran an Australia-wide campaign called The Last Film Search to locate and preserve nitrate film material before it neared the end of its life. As a result, nitrate footage from all corners of the country was deposited with the NFSA. This remarkable home movie footage was one of the discoveries of this campaign. It was deposited with the NFSA in 1982 by Kelly's nephew, Charles K Henshall from Wangaratta, Victoria.