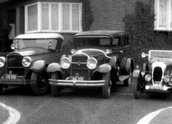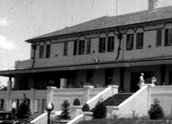 Archibald Family: Noorong Gazette: Parts XXI - XXIV (c.1930)
Synopsis
This silent black-and-white home movie compilation, titled the Noorong Gazette, was made by the Archibald family in approximately 1930. It is one of a series of seven gazette compilations that span from c1927 to c1932.
Curator's notes
The Archibald family were enthusiastic home movie makers and, along with their gazettes, produced a number of other home movies documenting family events, world travels and recreational activities. Made with a hand-cranked camera, each of the gazettes is introduced as 'Archibald Films presents' and is compiled in simple sequences with intertitles.
Parts XXI – XXIV include footage of family friends; spring in Centennial Park; the family motor vehicles; the White Rose Flour Mill picnic; a weekend holiday at Lapstone Hill Hotel; an afternoon spent at Mascot Aerodrome; and crowds on Bondi Beach.
The Archibalds were a successful business family who had interests in the milling industry in Queensland and New South Wales. During the late 1920s and early 1930s when the Noorong Gazettes were made, the family lived in Strathfield, in Sydney's western suburbs. The family home, 'Noorong' gives the gazettes their title.