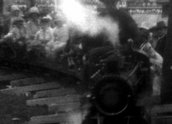 Archibald Family: Noorong Gazette: Parts IX - XII (c.1928)
Synopsis
This black-and-white home movie compilation, titled the Noorong Gazette, was made by the Archibald family in approximately 1928. The footage is silent and contains intertitles.
Curator's notes
The Noorong Gazettes are a series of seven black-and-white film gazettes made by members of the Archibald family that span from c1927 to c1932. Each gazette is presented by Archibald Films and contains several different segments which are all intertitled. Parts IX – XII in this gazette include a trip to the Melbourne Zoo; glimpses of other Melbourne sites including Luna Park; the running of the 1928 Melbourne Cup; the surf at Maroubra beach; and the Coogee Carnival.
These family-made gazettes are some of the earliest examples of home movie making and are a historical family record of the Archibald family during the 1920s and 1930s. But even without knowing much about the Archibalds themselves, their Noorong Gazettes provide a particular glimpse of Australian social history.