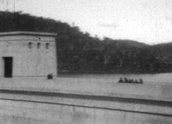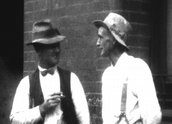 Archibald Family: Noorong Gazette: Parts I - IV (c.1927)
Synopsis
This black-and-white home movie compilation, titled the Noorong Gazette, was made by the Archibald family between 1927 and 1928. The footage is silent and contains intertitles.
Curator's notes
The Noorong Gazette is a series of seven film gazettes compiled between 1927 and 1932 by the Archibald family of Strathfield, Sydney. Parts I – IV, included in this first gazette, show recreation and activities at the family home in Strathfield; a trip to the newly completed Avon Dam; scenes outside the White Rose Flour Mill at Ultimo; and the landing of Southern Cross at Mascot Aerodrome.
The Noorong Gazettes use simple in-camera edits to create a narrative sequence and include descriptive intertitles to identify and introduce different sections of the gazettes. Each gazette begins with a title card which announces 'Archibald Films presents…'
Other Noorong Gazettes on the site are Archibald Family: Noorong Gazette: Parts V – VIII and Archibald Family: Noorong Gazette: Parts XXI – XXIV. Archibald Family: Family Scenes and Outings in Sydney: Home Movie is also on the site.