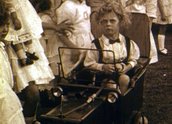 Albion, Douglas: Wally's Fifth Birthday Party (c.1921)
Synopsis
A tinted home movie with intertitles with scenes of a boy's fifth birthday party in a family garden. Scenes include Wally Albion playing with a toy train; girls dancing; a large table spread with cakes and sweets; and other party celebrations.
Curator's notes
Wally's Fifth Birthday Party is one of three reels of nitrate film that chronicles significant events and celebrations in the Albion family during the early 1920s. Home movie making at this time was a relatively expensive hobby and as a result represent a narrow segment of society. Wally, a subdued but thoughtful boy with curly blonde locks of hair, is filmed calmly playing with his model train and standing on a table where he is strewn with party streamers. Wally has an awareness of the camera but only displays a mild interest in it, as a family member (probably his father) films him in the garden. Apart from his name, there is little information about Wally or his family and friends seen in this footage. Wally's younger brother Douglas rediscovered this footage under Wally's house decades after it was filmed. The histories connected with the people and events in early footage such as this often disappears over time as family members pass on and artefacts become detached from their owners.
This home movie was filmed on 35 mm nitrate film stock – uncommon for home movies at the time – and uses a yellow tint to add colour. Tinting is achieved by adding a layer of dye across the image. Shot at 16 frames-per-second, 160 feet of film is all that survives from this reel. The surviving portion displays evidence of water damage, scratching and heavy shrinkage caused by age and inferior storage conditions. Shrinkage can sometimes make it difficult for a film to be transported through film equipment, as the distance between perforations shrink and will not match the sprocket teeth. The movement in the frame line (which makes the image appear to roll or move vertically within the frame) is evidence of this shrinkage. Correct storage conditions can help preserve film material and slow down the rate at which it deteriorates over time.
Douglas Albion was about to throw this footage out when he heard of a search for source material to be used in the production of Our Century – a 25-part television documentary series chronicling Australia's history from 1900 to 1999. The original nitrate print is preserved with Albion's other 35 mm home movie reels at the National Film and Sound Archive.