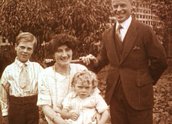 Albion, Douglas: Children's Birthday Party (c.1925)
Synopsis
A tinted home movie of family scenes in a garden and a children's party celebration in the mid 1920s.
It begins with a shot of the Albion family posing portrait style for the camera and then shows the father blowing bubbles with his young child Wally. Other scenes include an older child dressed as a clown and the young child in a flower bed with his mother.
Curator's notes
Running at just under two minutes, this captivating home movie footage was discovered by Douglas Albion (who is seen here as the blonde two-year-old) under his brother Wal's house decades after it was filmed. He was about to throw the reels out when he heard of the 'Search of the Century' that ran to coincide with the making of Our Century – a 25 part television documentary series that chronicled Australia's history from 1900 to 1999.
The film is well shot and consists mostly of fixed camera angles that film the family and friends from a close position capturing the detail and facial expressions with remarkable clarity. The backyard was probably the Albion's home in Sydney, but as Douglas recalled, there were many addresses and backyards where children's parties occurred over his childhood years.
This home movie was filmed on 35 mm nitrate film stock – uncommon for home movies at the time – and uses an orange tint to add colour. Tinting is achieved by adding a layer of dye across the image. The film is in fair condition for a nitrate home movie of its age. Nitrate is highly flammable and chemically unstable – prone to severe deterioration if not preserved under favourable conditions. This short segment is one of three reels of nitrate film chronicling significant events and celebrations in the Albion family during the early 1920s. The parents in this footage also appear in Wally's Fifth Birthday Party, filmed in the same location.