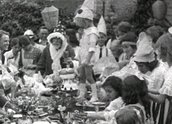 Albion, Douglas: Children's Party (c.1921)
Synopsis
A home movie filmed by the Albion family of a children's Christmas party in the 1920s. Most of the footage focuses on five-year-old Wally and takes place over a single afternoon.
The three minutes of 35 mm silent footage includes: the birthday boy, Wally, being picked up and hugged by his parents; an older man dressed as Santa Claus; children playing on a seesaw; children playing ring-a-rosie; Wally being pushed on a swing; guests and family members standing in the garden; children dancing; Wally standing on a table spread with cakes and sweets about to cut a cake; and Wally blowing bubbles towards the camera.
Curator's notes
This is a beautiful example of early movie making in 1920s Australia. It is one of three reels of film that chronicles significant events and celebrations in the Albion family's garden. In this film, Albion's camera carefully frames each scene and uses a combination of still and panning shots to record what is either a Christmas or birthday celebration. The shots mostly centre on Wally, a young child with curly blonde locks, but they also show other family members and friends. It captures the elaborate decorations including Chinese lanterns and Australian flags as well as children's swings and a seesaw.
It was filmed on 35 mm nitrate film stock – rare for home movies at the time – on a windy day in a suburban backyard in Sydney. Home movie making at this time was a relatively expensive hobby and as a result the films represent a narrow segment of society. This footage is similar to Wally's Fifth Birthday Party and appears to have been made around the same time. The five-year-old Wally remains fascinating and enigmatic in both reels. In this reel, he often appears uninterested in the celebrations surrounding him, yet there is a thoughtfulness which shines through. Apart from his name, there is little information available about Wally or his family and friends. The stories and histories connected with the people and events in early footage such as this often disappear over time, as family members pass on and artefacts become detached from their owners.
This footage was rediscovered by Douglas Albion (Wally's younger brother) decades after it was filmed. It was saved from being thrown out when Albion heard of a search for source material to be used in the production of Our Century – a 25-part television documentary series that chronicles Australia's history from 1900 to 1999. The original picture negative is preserved, along with the family's two other 35 mm home movie reels, at the National Film and Sound Archive.