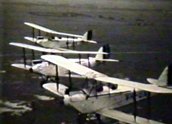 Activities of the Royal Aero Club of South Australia (c.1935)
Synopsis
Filmed by John Mack at the Adelaide Parafield around 1930, this home movie recording captures some of the activities of the Royal Aero Club of South Australia. It includes footage of aircraft in flight and flying enthusiasts John Buckham and Captain Nobby Buckley.
Curator's notes
This beautiful actuality footage contains some clear examples of dual cockpit Moth biplanes in flight and performing flying acrobatics, including loop-the-loops and stall turns (see clip two). Clip one features the DH60 'de Havilland' Moth on the ground and in flight. Amateur filmmaker and professional photographer John Mack films many of the aerial scenes from the rear cockpit of the plane and manages to convey the experience of flight in a light aircraft. It is easy to imagine the exhilaration of being up in the clouds.
At the time this footage was filmed, Mack's friend Captain Nobby Buckley – who went on to fly DC3 planes – was accruing flying time to become a commercial pilot. Buckley used to pick Mack up on Sunday mornings and go out to the Parafield aerodrome where they would spend hours in the skies above Adelaide. Both were members of the Royal Aero Club of South Australia, which had kept a hangar at Parafield since 1927, and this footage is a visual record of their typical weekend outing.
The footage was shot mostly by John Mack (although there are a few segments filmed by Buckley) using a British-made Ensign Super Kinecam 16 mm camera which Captain Buckley bought from Mack. From a keen interest in photography and cinematography, John Mack built up an extensive collection of film and still image equipment over the years.
John Mack (or CJ Mack as he is sometimes credited) became interested in film after initially working at the photographic firm Harrington's in the 1930s. He began selling cameras and eventually opened a number of his own stores – John Mack Photographics. He began using moving image cameras and later became involved with the early amateur film movement in South Australia. He was a member of the Wanderers Amateur Cine Society (later the South Australian Amateur Cine Society or SAACS) and the Adelaide Filmo Club. He produced and directed a handful of amateur productions including Magical Powers (1936), The Felt Hat (1951) and The New Car (1953). During the Second World War Mack was involved in the Visual Education Unit of the Australian Defence Force and was posted to the Northern Territory where he filmed troops and civilians.
In 1988 John Mack made a video recording of this and other amateur films adding a detailed voice-over commentary. This commentary identified individual participants, provided location and event details, as well as a personal response to the footage he had filmed over the years. It is a valuable addition to Mack's moving image material held at the National Film and Sound Archive. The NFSA conducted an oral history interview with John Mack in 1998 which outlined his career and experiences. It is held in Canberra for preservation.