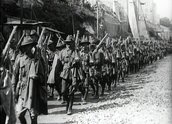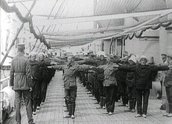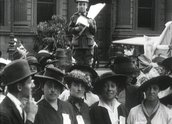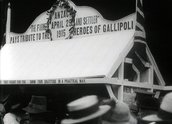 WWI Troops Embarkation and Charity Bazaars, Sydney (c.1915)
Synopsis
This silent actuality footage captures various aspects of the domestic war effort in Australia during the First World War, and the people's relationship to the Australian Imperial Forces recruits. It shows newly recruited troops embarking for service; life on board the ships for troops heading overseas; and the fundraising activities of the Red Cross to aid in the war effort.
Curator's notes
As in this example, early actuality footage often contains a visual record of significant cultural or historical events, places or people, and even with patchy information as to the origins, the images themselves stand up to the tests of time. Parts of the footage indicate that it may have been used in a newsreel context, but this is not clear.
This archival footage is part of the Pearson Collection held at the NFSA. James (Jim) Pearson was a director working in the 1930s and 1940s who was also an avid film collector. Pearson himself worked as a laboratory technician, director, editor, camera operator and producer for Movietone, and later the British Ministry of Information's Far Eastern Bureau. This footage is just one of many cans of film Pearson deposited with the National Film and Sound Archive and contains a vivid portrait of Australian troops around the beginning of the First World War.
With many archival titles deposited with, or donated to, the National Film and Sound Archive (especially from the earlier part of last century), there is often little or no information available as to the material's provenance, origins, or context in which it was screened. Sometimes the little information there is relates to how the footage came into the National Collection, and this also forms part of the material's history.