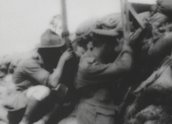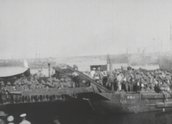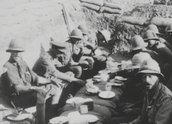 With the Dardanelles Expedition (c.1915)
Synopsis
During July, August and September of 1915, English war correspondent Ellis Ashmead-Bartlett shot scenes of the allied troops on Gallipoli. The first section, entitled 'Scenes of Anzac', shows Watson's Pier at Anzac Cove, including MacLaurin's Hill and Bridges Road, leading to the front line. Troops trudge past the camera at Monash Valley. The titles, written by CEW Bean in 1919, note the thinness of the men and the 'Anzac uniform' – shorts and sometimes a singlet. A series of runners bring messages to headquarters, and two soldiers demonstrate the use of a 'periscope rifle', a device invented in this campaign.
In section two we see Cape Helles, where the British 29th Division landed on 25 April, 21 kilometres further south on the peninsula. The beached steamer River Clyde has become headquarters for naval staff, the old fort at 'Seddel Bahr' is now occupied by French and British troops. Horses and mules are kept in protective trenches. British troops move forward to relieve the garrison at the front line, carrying emergency rations in white shoulder bags. An armoured car, used unsuccessfully in June, is filmed in a wide trench behind the lines.
Section three concentrates on the allied counter offensives of August 1915, beginning with British troops embarking at Imbros Island, before their attack at Suvla Bay, north of Anzac Cove. Turkish prisoners and Egyptian labourers work on Imbros, near a wrecked aeroplane in the water. Preparations are also underway at Anzac Cove, where the camera does a long slow pan from right to left across the warren of dug-outs and headquarters positions. Signallers lay telephone cables in a long and wide trench – a main thoroughfare used for moving troops to and from the forward positions. At Imbros, troops march on to 'motor lighters' which carry them past a harbour full of ships.
On 7 August, at Suvla Bay, the Australian Naval Bridging Train helps to disembark troops. The Suvla wounded are carried out along jetties, many of which were constructed by Australian seamen. Soldiers carry water containers ashore, along with large amounts of stores. British officers eat at a makeshift mess, after taking Suvla Bay. Meanwhile, the Anzac troops attack at Walker's Ridge, as naval guns and artillery attack Turkish positions at 'the Chessboard'. Large fires burn on the ridge that is soon to be attacked. In a trench, Irish or Australian troops fire vigorously as Mr Ashmead-Bartlett walks the trench behind them. In a final long shot, Turkish shells rain down on the headquarters of the 1st Australian Division, high on the ridge, near Lone Pine.
Curator's notes
These 20 minutes of film, scratched and badly exposed, are among the most precious moving images that Australia possesses. They are the only record on film of what Gallipoli looked like in 1915. Even with the poor quality, we get a vivid sense of the dust, heat and wretched conditions of the trenches – and an occasional glimpse of the more genteel life of the British officers at leisure. The only Turks we see are prisoners of war, and there is precious little footage of actual warfare, for obvious reasons, but it's remarkable that we have any footage at all, given that the photographer had no permission to film and no experience using a cine-camera.
English war correspondent Ellis Ashmead-Bartlett was already famous in Australia and Europe before he took these pictures. His account of the 25 April landings of the Anzacs was the first to reach the Australian newspapers – ahead of the report by Australian correspondent CEW Bean – and it was extremely complimentary of their bravery and commitment (read more in Gallipoli on Film). Ashmead-Bartlett was a seasoned war correspondent, a former soldier himself, who had a taste for adventure, intrigue, gambling, women and fine food and drink. His camp at Imbros Island was well stocked with wines and he had imported a chef from Malta. He was a renowned conversationalist, blunt in language and with little false modesty, but he had more experience of war than most of the British officers – including a personal knowledge of the Turkish army.
He knew most of the important people in England personally, including the King, and he went to Gallipoli with grave misgivings about Churchill's plan to knock Turkey out of the war by taking the straits of the Dardanelles. He would become the first to denounce the campaign as a failure, in a private letter to the British prime minister, Herbert Asquith, for which he paid a high price – banishment from all British battlefields for the rest of his life – but he had a significant impact on the duration of the campaign, and on the formation of the Anzac legend in Australia and New Zealand.
His reasons for making the film were prosaic: he needed the money. Ashmead-Bartlett returned to England in June 1915 to buy new kit after all his possessions went down aboard HMS Majestic, torpedoed off Gallipoli on 27 May. While shopping for new clothes, entertaining lady friends and briefing Herbert Asquith, Lord Kitchener (Secretary of State for War), Winston Churchill (First Lord of the Admiralty) and the Cabinet about his doubts on the Gallipoli campaign leadership, he also had to consider his debts. He signed a deal to write a book about Gallipoli and agreed to take a cine-camera back with him. This would have been a new and difficult concept, even for a professional cine-photographer, which he was not. The cameras were unwieldy, film was volatile and wartime censorship made filming anything difficult. Nevertheless, there were profits to be made and Ashmead-Bartlett certainly needed money. He had debts of more than ₤4,000 – an enormous sum in 1915.
In the 2005 book Myth Maker: Ellis Ashmead-Bartlett, Fred and Elizabeth Brenchley say that the backing came from theatrical entrepreneur Alfred Butt. He supplied the camera, a new lightweight Aeroscope which could shoot 450-foot reels, or about eight minutes at a time, plus 10,000 feet of unexposed film. Ashmead-Bartlett was to get 45 per cent of the profits from screenings. 'If only we are able to get some really valuable pictures and at the same time are allowed to use them', he wrote. This latter concern was serious, because the War Office in London was completely opposed to him shooting either film or still photographs.
He managed to convince the Commander-in-Chief on Gallipoli, Sir Ian Hamilton, that he should be allowed to film, as long as the film went through censorship in England. The War Office instructed Hamilton to prevent the filming, but he apparently ignored them. Even so, much of what Ashmead-Bartlett eventually sent back was impounded by the War Office and never released. Alfred Butt was only allowed to release the film in cinemas in January 1916 after Gallipoli was evacuated.
Ashmead-Bartlett returned to Imbros Island on 23 June 1915, knowing very little about how to operate the camera. Two days later, on board HMS Exmouth, he met Ernest Brooks, the official photographer for the Admiralty. Brooks was an experienced stills cameraman, but had never used an Aeroscope. After some practice together in early July, they began shooting but the arrangement did not last. Brooks returned to England, after he was slightly wounded by shrapnel. Ashmead-Bartlett forced himself to study the camera's intricacies and began filming on 22 July, at Anzac Cove.
In an article in the Historical Journal of Film, Radio and Television in 2004, Philip Dutton of the Imperial War Museum writes that Ashmead-Bartlett climbed to Quinn's Post and Courtney's Post that day, with war correspondent HW Nevinson and an intelligence officer, Captain Aubrey Herbert. Charles Bean's diary records that he went with them, possibly as their guide. Ashmead-Bartlett was 'anxious to get the cinema pictures which Ernest Brooks had been going to take', wrote Bean. 'As he wanted to see Quinn's we went up there first.'
Bean's entry makes it appear that Ashmead-Bartlett had never been to Quinn's Post, which was one of the most dangerous places on Gallipoli, and already one of the most famous. Quinn's was then occupied by New Zealand troops, the Wellington Battalion, commanded by Lieutenant Colonel William Malone, who was a stickler for order, cleanliness and discipline. Malone was used to hosting excitable correspondents, according to historian Peter Stanley's book, Quinn's Post (2005). He would serve them afternoon tea on his terrace accompanied by a 'bomb orchestra on the trenches above', Stanley writes. He would then take them to a stretch of trench partially open to distant Turkish positions 350 yards away, where they could be shot at.
This appears to be what he did with Ashmead-Bartlett and his camera. Malone records that Ashmead-Bartlett 'kinematographed part of the post at the back, taking in the terraces and the men at work'. Malone did not quite approve of the Englishman. 'He seemed a bit swollen-headed and full of his own importance.' Peter Stanley believes that the men in one part of Ashmead-Bartlett's film are likely to be men of the Wellington Battalion. 'Their dress strongly suggests that they are Malone's Wellingtons. They wear undershirts and a variety of hats – sun helmets, slouch hats and flat caps with sun cloths or fly-nets hanging from the crown … At one point an officer passes wearing a tie (another sign of Malone's standards).' Stanley suggests that these sequences, if taken at Quinn's, are especially valuable, as they are the only film record of a place that no longer exists. Quinn's Post has largely been washed away by weathering.
CEW Bean acquired a copy of Ashmead-Bartlett's film in 1919, when Bean was setting up the Australian War Memorial. He rewrote the film's titles, some of which are wrong or misleading. He may also have edited the film, removing certain shots (see below). The film was restored in 2005 by the New Zealand director Peter Jackson, working with the Australian War Memorial. They used digital techniques developed at Jackson's Weta Digital Workshop in Wellington, while he was making The Lord of the Rings trilogy (2001–03).
Since then, staff at the AWM have uncovered another two shots they believe are probably from the Ashmead-Bartlett film. These show Anzac Cove and soldiers on a beach, possibly at Suvla Bay. The footage was on a compilation reel, the AH Noad Film, acquired by the AWM in 1938. It is possible that these shots were edited out by CEW Bean in 1919, but no-one knows how they came to be on the Noad film.