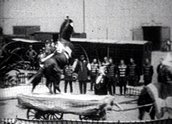 Wirth's Circus Film (c.1925)
Synopsis
This silent actuality footage shows circus proprietor and ringmaster Philip Wirth and his trick pony, Earl Dudley, as it performs a range of tricks in an outdoor arena. The final segment of this footage shows elephants and circus workers setting up the big top on the showgrounds.
The footage is silent and most of it is in soft focus.
Curator's notes
Philip Wirth and his brother George were the founders of one of Australia's most well-known family circuses – Wirth's Circus. This footage contains rare moving images of Philip performing with his trick pony, the fantastically named Earl Dudley. The Wirths were born in Queensland and got their start as bandsmen in Ashton's circus in the 1870s. By the time this footage was filmed, the Wirth brothers had established Wirth's Circus and embarked on extended world tours to England, South Africa and South-East Asia. As well as being the circus proprietor, Philip Wirth was well-known for his talents as a horse trainer and ringmaster, and it is these skills that are on show here.
An intertitle at the beginning of this footage fragment indicates it may have been part of a newsreel item, although its provenance is unclear. There is very little evidence to attest to the location in which this material was filmed and, as the circus troupe toured the country extensively in the 1920s, it could be one of a number of Australian cities or towns. What it does show, however, is a glimpse of the life of the itinerant performers of yesteryear and some of the showmanship involved in the circus.
Wirth published an autobiography about his life in the circus, The Life of Philip Wirth, in 1934.