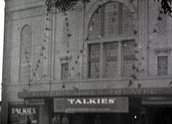 Talkie Season Opens: Wintergarden Theatre (c.1929)
Synopsis
This silent historical footage shows the Wintergarden Theatre (now demolished) in Rose Bay, Sydney, as it prepares for the screening of talking pictures. It also features some of the people involved in renovating the theatre, including Ray Allsop, inventor of the Raycophone, architect FA Jarvie, interior designer H Peterson and sculptor Rayner Hoff.
Curator's notes
The Wintergarden Theatre was the first suburban theatre equipped with sound technology to screen talkies. Unfortunately this clip does not reveal the interior, but the banners decorating the façade imply that it was quite an event. The theatre had its gala opening on Monday 10 June 1929 and was demolished in 1987. The National Film and Sound Archive holds colour 16mm footage of part of the demolition.
The coming of sound to Australian cinemas in the late 1920s prompted a flurry of competing sound systems in the market – both local and international. Ray Allsop was a radio engineer who had experimented with sound technologies since the early 1920s and, after the Wintergarden was fitted with 'Raycophone' technology, over 300 other Australian theatres followed suit. The young Allsop appears briefly at the end of clip one.