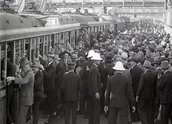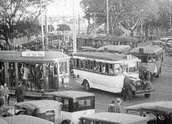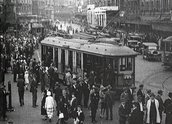 Sydney Tramways (c.1928)
Synopsis
This silent black-and-white footage shows how the tram system in Sydney handles large crowds. It features various sporting and leisure events including the Sydney Cup at Randwick Racecourse, the Royal Agricultural Show at the Sydney Showground and a rugby match at the Sydney Cricket Ground. It also includes footage of the busy intersections at Anzac Parade Junction and Central Square (now Railway Square).
Curator's notes
This documentary material was probably filmed by Cinesound, possibly as a promotion for Sydney's extensive tramway system. It presents mostly as actuality footage (although it does contain intertitles) and offers a vivid portrait of a growing and bustling city at a time when Sydney's population had just passed one million. An Australasian Gazette newsreel item, City Traffic in Variable Moods (c1920), shows scenes of an expanding Melbourne at a similar time, however Sydney Tramways successfully demonstrates the relationship between the city population and the developing public transport system.
Clip one shows an extraordinarily large crowd leaving the Randwick Racecourse and miraculously piling into dozens of waiting trams without a single person being crushed. Clip three includes a beautiful moment in which two paperboys spy the camera and, for a few seconds, remain transfixed.