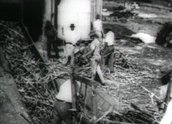 Sugar Mills, Nambour (1899)
Synopsis
This actuality footage shows a horse-drawn tramway of cane arriving at a conveyor belt at a sugar mill in Nambour, Queensland. The cane is trimmed and carried by conveyor belt into the mill for crushing.
Curator's notes
This actuality footage was taken by the official photographer of the Queensland Department of Agriculture, Frederick Charles Wills, and his assistant, Henry William Mobsby. Wills and Mobsby recorded agricultural processes for the Queensland Government in 1899, producing over 30 short films of up to one minute in length. The films accompanied lectures in Britain promoting migration to Queensland. Other films demonstrating agricultural practices and machinery include Dipping Sheep and Wheat Harvesting with Reaper and Binder (both 1899).
For further information, see 'Australia's First Films' by Chris Long and Pat Laughren, Cinema Papers, 1993, No. 96, p 37.