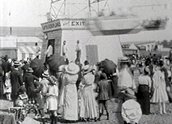 The St Kilda Esplanade on Boxing Day (c.1913)
Synopsis
This fragment from a silent documentary or newsreel item takes an observational look at the St Kilda esplanade and foreshore on Boxing Day 1913. People relax on the grass, enjoy amusement rides at Luna Park and swim at the beach.
Curator's notes
The St Kilda Esplanade on Boxing Day is a vivid snapshot of public life on a sunny day in Melbourne. Unfortunately, there is no record of who took this footage or whether it was from a longer documentary or newsreel item. It appears likely to be a fragment, as the image abruptly cuts out about two and a half minutes into the film. The steady camerawork and deliberate editing give it a produced feel that makes it unlikely to have been a home movie. At the beginning of the footage, there is a title card that identifies the location and time of year. The approximate date of production is determined by the date on the film stock, placing it just before the First World War.
The camera remains still for the opening shots as did quite a lot of films in the early days of cinema. The camera eventually pans slowly to capture scenes along the esplanade and the beach crowds relaxing at their own leisure.
Found in poor condition, this film is damaged from ferrotyping and 'vinegar syndrome'. Ferrotyping is a change in the surface characteristics of a gelatin emulsion caused by the swelling of the gelatin pressing against the surface. Vinegar syndrome is the term used to describe the chemical reaction produced from the deterioration of cellulose triacetate as it begins to decompose. Until recently, there has been no way of stopping or reversing the results of vinegar syndrome but by the early 1990s Eastman Kodak developed a promising new technology called the Molecular Sieve which has the ability to retard this reaction.