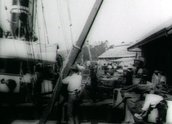 SS Katoomba Unloading (1899)
Synopsis
This actuality footage from 1899 shows the unloading of timber spars from the SS Katoomba at a busy wharf in Brisbane.
Curator's notes
Frederick Charles Wills was commissioned by the Queensland Department of Agriculture to record agricultural processes using a Lumière Cinematographe camera. With his assistant, Henry William Mobsby, he produced over 30 films in 1899, each about one minute long.
Wills uses a static camera to capture the activities at this busy wharf. Chris Long and Pat Loughren argue that the location is probably Pinkenba Wharf in Brisbane (see 'Australia's First Films', Cinema Papers, 1993, No. 96, p 32).