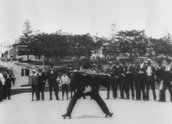 Patineur Grotesque (1896)
Synopsis
This short piece of actuality footage shows a man in costume on rollerskates performing a comic act for a gathering crowd.
Curator's notes
Documentation now held at the National Film and Sound Archive suggests this is Australia's earliest surviving film. Patineur Grotesque is believed to have been filmed by Marius Sestier between 29 and 31 October 1896. This was prior to his recording of the Melbourne Cup 1896, part of the Melbourne Cup carnival series which started on 31 October. The exact location is unknown but may be in Yarra Park on Wellington Parade in Jolimont, where the MCG (Melbourne Cricket Ground) now stands. UPDATE: The NFSA has confirmed that the location is Prince Alfred Park in the South Sydney-Redfern area (see comments).
The skater may have been a professional stage skater performing in a nearby theatre or circus. He may also have been hired by a proximate venue to entertain crowds, which was a common practice in those times. Unfortunately, details about individual skaters or other performers of the time is sketchy at best and sheds no further light on this footage.
The film premiered in Lyon on 28 February 1897. It had its first Australian screening at the National Film and Sound Archive in March 2010.