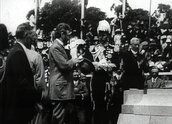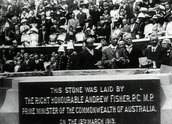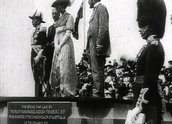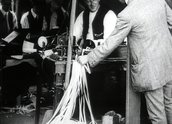 Naming the Federal Capital of Australia (1913)
Synopsis
This silent film footage, by pioneer director Raymond Longford, documents the naming of Australia's capital city, Canberra, in the official ceremony held on 12 March 1913.
It contains shots of officials attending the ceremony including Andrew Fisher, the then prime minister of Australia; King O'Malley, minister for home affairs; the federal attorney-general William (Billy) Hughes (who himself became prime minister in 1915); governor-general Lord Denman and his wife Lady Denman. The foundation stones are laid at the site which is now Capital Hill, and Lady Denman proclaims the city to be named Canberra.
Curator's notes
Men and women, dressed in all their finery for the occasion, travelled by horse and buggy, on foot, and by horseback to attend the ceremony. The footage is interspersed with intertitles to identify both people of importance and the various stages throughout the ceremony.
The site for Canberra had been chosen in 1908 from a number of locations between Sydney and Melbourne, the nation's two largest cities. In 1911 an international competition was announced for the planning of the city and was won by architect Walter Burley Griffin.
The six-sided foundation stone (each side representing a state) was laid to mark the beginning of construction of the city of Canberra. While the foundation stone was meant to be the basis for a commemorative column, it was never finished. The base remains at the front of Parliament House.
Raymond Longford is best known for his silent feature films The Sentimental Bloke (1919), On Our Selection (1920) and The Pioneers (1926).