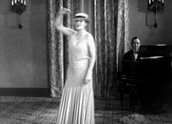 Miss Minnie Love in Impressions: Maurice Chevalier (c.1931)
Synopsis
Stage performer Minnie Love adopts a French accent and straw hat to present an impression of French musical comedy star Maurice Chevalier performing the songs 'On Top of the World, Alone' (which Chevalier sang in Innocents of Paris, 1929) and one of his most famous songs, 'Valentine' (1924).
Curator's notes
The suave Maurice Chevalier was a popular comedian and singer from the 1920s onwards. Australian performer Minnie Love, known for her impressions of famous film stars and singers, embodies Chevalier's characteristic arm movements and exaggerated French accent and wears his trademark straw hat. Audiences would have been familiar with the Chevalier songs that Love sings. Love recorded a number of impressions and songs for Efftee's variety shorts programs, including impressions of British music hall stars Gracie Fields, Randolph Sutton and Lily Morris.
Frank Thring's Efftee Entertainers series consisted of variety shorts that included musical performances, comedy acts, dancing extravaganzas and impersonations drawn from the vaudeville and music hall traditions. The variety performances were simply staged, usually with a few props, a piano and a stage curtain making up the set. As well as screening to local audiences as part of the Efftee Entertainers series, Love's impression of Chevalier was repackaged for British audiences in Thring's Non-Stop Variety series.