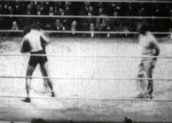 Les Darcy's Last Fight: Les Darcy vs George Chip (1916)
Synopsis
Historical footage of Australian boxing champion Les Darcy and American George Chip at the Sydney Stadium on 30 September 1916. Highlights from rounds one, three, five, seven and nine are shown.
Curator's notes
Middleweight boxing champion Les Darcy had his career cut short at just 21 years of age when he died after leaving Australia in 1916. This fight against George Chip would be Darcy's last, in which he knocked out Chip after nine rounds. This 12 minutes of silent footage is shot mostly square-on to the ring, with Darcy in the right corner and Chip in the left. It shows glimpses of Darcy's fighting style and his famous reach which gave him increased punching power. In his brief career, Darcy lost only four registered fights and was never knocked out.
Footage of Darcy training with mentor and coach Dave Smith can be seen in Les Darcy vs Dave Smith (1916), filmed three months earlier.