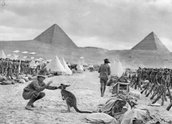 The Landing of the Australian Troops in Egypt (c.1916)
Synopsis
A short commercial recording, probably made in London around 1916, that dramatises the Australian troops arriving in Egypt, before Gallipoli. It includes what is probably the first recording of 'Advance Australia Fair', the song that was to become our national anthem. The 'soldiers' sing patriotic songs and joke with English 'Tommies' about having kangaroos on the ship.
Curator's notes
Little is known about the origins of this recording, save that it's certainly not actuality of any troops landing anywhere. It was made as a commercial disc by Zonophone, a company that eventually became part of EMI. Even the date is a surmise: it can't be pre-1915 because the patriotic song 'Australia Will Be There' was only written in 1915.
The purpose is also unclear: was it popular propaganda, a wartime fundraiser, a souvenir for troops on leave to send home to family, or even an Australian effort to remind the British that they were not fighting alone? It is likely that the disc was recorded in London rather than in Egypt, and the use of sound effects suggests that it was a professional studio. This was before the debut of broadcast radio services in the 1920s, but a growing number of people had gramophones, capable of playing recordings such as this.
This is also believed to be the first recording of 'Advance Australia Fair', although it may simply be the first that survives. The song had been popular in Australia at least since Federation in 1901 – although it was not made the national anthem until 1984.
It is likely it was recorded in London around 1916 and sold as a commercial disc soon after to the growing number of people who had gramophones.